Biking through the Solar System
2009-05-12 1:49 p.m.

Last week, I was riding my bike on a city trail section that I didn't use very often last year, and starting to wonder exactly where the hell I was. Then I found my answer: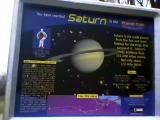 Oh. Well, I guess that clears that up.
(My first thought was that my dad was right. He has maintained for years that you should always have a camera with you, because you just never know when you might meet an alien and need photographic proof. If I stayed on this trail, that just might turn out to be a distinct possibility. I only had my phone, so it's not the best photo, but you get the idea.)
By the time I reached Jupiter, I knew exactly where I was. I made it into a slightly longer ride, so I could hit the bubbler just past the Sun before heading home.
***
As soon as I got home, I went to the internets. I seriously love Madison. Does YOUR home have something this dorky and cool?
I immediately decided that my goal for this summer is to make it all the way to Pluto. Once there, I will find a restaurant, and proudly tell people that I have eaten at The Restaurant at the End of the Universe. (OK, fine. I realize that this is not true at all. I will merely have eaten at a restaurant at the outer edge of my solar system. Still a good goal, though.)
On that little purple map, I live between the "V" in the word "Venus" and the hwy 14 and 12/18 intersection. "The Sun" is about four miles from my home. To do this properly, (from home to the sun to Pluto to the sun to home) I'm looking at about a 50 mile ride, round trip. If I just intersect the route at the point closest to me, it's probably about 40.
Today, I rode 20 miles. 50 miles isn't completely unreasonable, but I'm not ready for it quite yet. The planetary markers will go away in September. I'm sure I'll be able to do it before then.

previous--next