photos!
2008-06-19 10:22 a.m.

Yesterday, I finally managed to get my camera with full batteries and in my bike bag. Now, I know a few people who live in Iowa and whose lives are actually being affected by flood damage. I do feel kind of bad saying, "Ooh look at the floodings!"

On the other hand, some of these pictures are pretty cool. I'm experimenting with Photobucket today. It seems to be just the thing for (free! woohoo!) photo editing and sizing and such. We'll just have to see if it really does store photos indefinitely.
Here we see what used to be someone's dock. Also, note the (dammit, very blurry) "No Trespassing" sign. Is that really a problem he's having this year?
There's no sign hilarity here, but I think this dock wins on all other counts. Man. He's never getting to that speedboat now.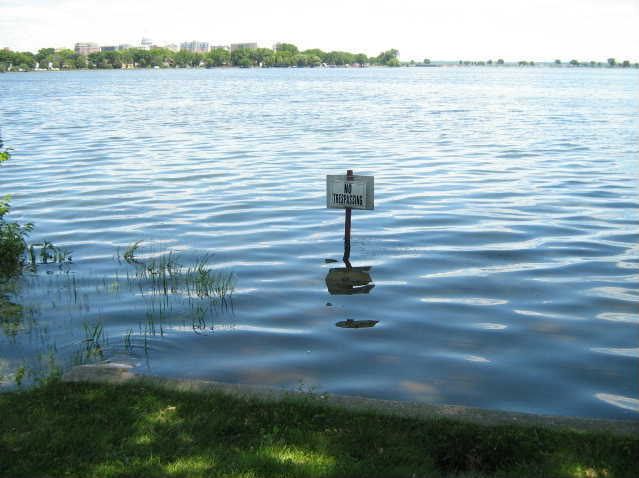 Hee.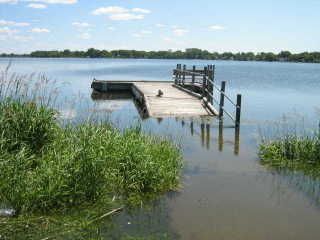 Here we see the value of the "No Trespassing" signs. There was no sign posted, so that duck just waltzed in like he owns the place.
Horrible puns about ducks and dining, probably involving quackers, deleted here. You're welcome.
This part of the Capital City Path has three lanes. Two are for biking and the far left one is for, um, swimming.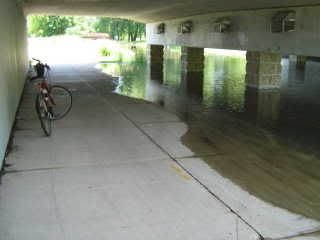 On a normal day, Wingra Creek runs along the far side of those brick pillars. There's a dropped ledge and everything.
I rode through this part.
This one, though, I said pass. That's a folding chair sitting in the middle. Intruiging.
Realizing it might take several years for me to again coordinate having a bike and a camera on me at the same time, I turned it into an extra-long ride, just so I could take a few photos of the hands-down prettiest view I've found so far.
The Arboretum has all kinds of unofficial street entrances along Manitou Way. This is what you see from the bike path/sidewalk.
Going down....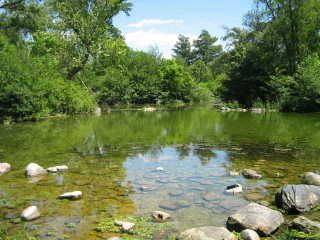 Aww, yeah. Totally worth carrying my bike for.
The street's up there somewhere...
I didn't actually realize I was on part of an Arboretum trail till I saw two people come out of here. They were probably equally confused to suddenly see someone with a bike in the middle of their footpath-only nature hike.

previous--next